How to Form an LLC in Arizona
Business Address
With Arizona Statutory Agent Services, all clients can use our business address on their Articles of Organization and keep their private address off of their LLC's public record.
Business Documents
For every new Arizona LLC we form, we include internal documents like an operating agreement, initial resolutions, and membership certificates... at no extra cost!
No Publishing Costs
With our Pima County statutory agent address, you can skip the Arizona publication requirement and save your LLC time and money.
Arizona LLC

Formation Package:

$234

Total

Why Start an Arizona LLC?
An Arizona LLC allows individuals or entities to operate business in Arizona while enjoying flexibility, liability protection, and personal asset protection. Arizona LLCs are relatively inexpensive to start, even with expedited, one-day processing, and by default do not pay corporate taxes at the state or federal level.
Steps to Start a Arizona LLC:
See what our awesome clients have to say about our services
"Great communication, fast and easy! I highly recommend Arizona Statutory Services when starting a LLC!"  -Emmerick B, BBB Review

"I highly recommend Utilizing Arizona Statutory Agent Services when starting a LLC. Very professional and extremely knowledgeable. The process was very efficient and quick." -Mitchell B, BBB Review

"Arizona Statutory Agent Services provided a seamless and easy process to get started with an existing LLC and begin operations in Arizona. A large corporation which boasts they can help with all fifty states didn't know how to get this process done and once they researched it for $100, they offered to do the same thing (if available) at a price which was triple that of Arizona Statutory Agent Services. I'm so glad I found this company to be my assistant in this process and serve as my registered agent!" -Todd C, BBB Review

"My Agent was so incredibly helpful and patient with all my questions. what a great service. He made the process super easy and it was inexpensive!" -Nicholas F, BBB Review

"Arizona Statutory Agent Services LLC got my LLC up and running literally overnight and proactively communicated with me via email every step of the way. I would absolutely recommend working with this organization for a hassle free experience!" -Amy V, BBB review

"This was our first experience using a statutory agent. Wish Id known about them years ago. Set up was so easy, like an earlier review mentioned, we were setup within two days. Their website walks you through the whole process. Each step is explained with examples for perfect understanding. There was no wondering what would happen next- emails came promptly with all required information." - MaryAnn L, BBB Review
Choose a name for your Arizona LLC
Before finalizing the name of your LLC, do an Arizona business name search to make sure it's available by searching the Arizona Corporation Commission: Business Entity Search. In Arizona, two businesses cannot have the same name, nor can two businesses have names that are two similar so we recommend searching for any names that "contain" any part of your business name to ensure another business name isn't too close to your Arizona LLC's name.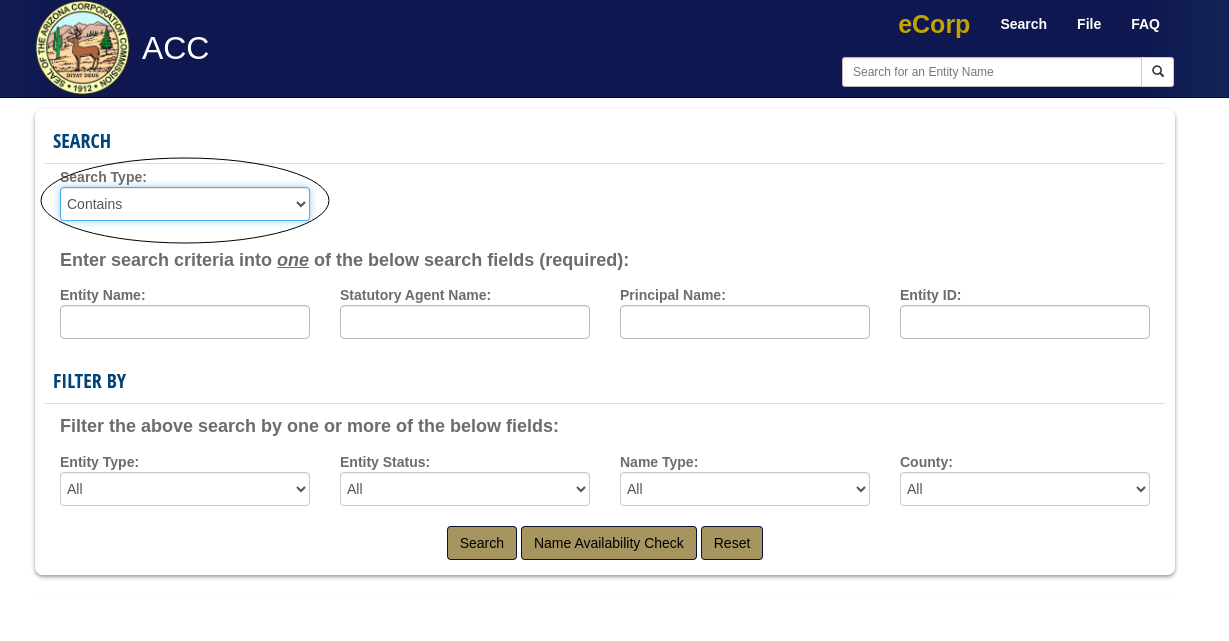 Once you've confirmed that your chosen LLC name isn't too similar to other Arizona businesses, make sure that you add an LLC indicator to the business name, like "LLC," or "limited liability company" at the end of the business name, and that the name follows all other Arizona Corporation Commission Naming Standards.
Appoint a statutory agent
All Arizona LLCs must appoint an Arizona statutory agent in their Arizona Articles of Organization. In most other states, what we call a statutory agent is called a registered or resident agent. No matter what you call it, it's the same thing. A statutory agent is a qualified individual or entity, legally committed to accept lawsuits and other legal or state notices on behalf of the business.
To qualify as a statutory agent, the individual or entity must have a physical address in Arizona, be over 18, and commit to being available to accept documents on behalf of the company during any and all regular business hours. To guarantee that the statutory agent commits to accepting legal and state notices for the business, Arizona requires the appointed statutory agents to consent to each appointment.
When an Arizona LLC files their articles of organization by paper: They must include a signed statutory agent consent form. If you hire us as your agent, you will have a signed copy in your secure account upon signup.
When an Arizona LLC files their articles of organization online: They must enter all the agent information correctly, so the state can properly send the consent request to the agent for acceptance before the request expires and the LLC must be resubmitted. If you hire us as your agent, your automatic confirmation email will include all the details you need to file accurately.
When an Arizona LLC hires us to file their articles of organization: We list all of our own information and immediately accept the appointment so there is no delay in the LLC's registration.
Complete and file the Articles of Organization
Complete and submit the Articles of Organization to officially form your Arizona LLC with the Arizona Corporation Commission. To file your articles, you can submit the form online, by paper, or through hiring a third party, like us. When you hire us to start your LLC, we always file online to get your paperwork back as quickly as possible. Regardless of the method of filing you choose, you should expect to provide the following information:
indication if it's an LLC or PLLC (professional services only)
business name
industry (only applies to PLLCs)
statutory agent name and address
principal address
management structure (member managed or manager managed)
members/managers names' and addresses
Even with the additional fee for expediting your LLC, Arizona's online filing fee is less expensive than the filing fee in most other states, and well worth the ease and speed.
If you choose to file by paper, you can submit the articles of organization, cover sheet, management structure attachment for managers OR members, and the statutory agent consent form to:
By email:
filings.corp@azcc.gov
By fax:
602-542-3521
By mail:
Arizona Corporation Commission – Examination Section
1300 W. Washington St., Phoenix, Arizona 85007
Publish Business Notice
Most Arizona LLCs must publish notice of the formation in their local newspaper within 60 days of formation three consecutive times, per AZ Revised Statute § 29-3201(G). The exceptions to this rule is if the business's principal address is listed as in Pima or Maricopa Counties.
Our office is located in Pima County so when you hire us to serve as your statutory agent, or to start your LLC for you, our address is listed on the state record and you can skip this (annoying and costly) step altogether. If you aren't using our services, here's what to expect:
The Arizona Corporation Commission (ACC) will send you a letter once your business is approved advising you to move forward with publishing.
You must complete the enclosed Notice of Publication form, and send it with appropriate fees to an approved publication in your county.
After the the publication completes the required three consecutive runs, the newspaper will send you an affidavit proving your notice was published 3 times.
We recommend filing the affidavit with the ACC right away, as the ACC may administratively dissolve your LLC if the publication requirement isn't completed within 60 days.
Publication fees differ based on the newspaper and county and may range from $55-$150, which reinforces the value and benefit of our $49/year statutory agent service.
Create an operating agreement
An operating agreement serves as a foundational and defining document for your Arizona LLC. While not required by Arizona state law, this document serves as a rule book and record for your company by listing who makes the management decisions, how profits and responsibilities are split, and ownership and initial investment details. On top of being a helpful legal document, your LLC will likely need an operating agreement to conduct business with some third parties like banks and other financial institutions.
Most businesses create their own operating agreement, or hire an attorney to write one for them. If you choose to hire us, we include an attorney-drafted, customizable template, tailored to your LLC's management style AND additional internal documents included in our $100 filing service fee.
***
Easy, quick, convenient. Starting an LLC can be overwhelming, but with this service it was smooth, and worth every penny. I highly recommend. Using Arizona statutory agent for anybody looking into starting an LLC.   -Julio G, BBB Review
***
Obtain an Employer Identification Number (EIN)
An "EIN" is an Employer Identification Number from the IRS, but it is also called a Tax ID. It's the unique, 9 digit number for a company's tax purposes. Arizona LLCs with two or more members will need an EIN, but it's generally recommended for single member LLCs as well, especially if you prefer not to have to use your personal SSN for business purposes.
We recommend applying for an EIN after your Arizona LLC has been processed and approved so that you can ensure the official name and formation date is attached to the EIN. Applying for an EIN (if you have a SSN) can be done pretty quickly online, but making changes to an existing EIN is usually a much longer paper filing.
If you have a SSN, you can apply for your Arizona LLC's new EIN on the IRS website. If you do not have a SSN, you'll have to apply by paper (which may take months to have your EIN assigned).
File BOI Report for your Arizona LLC
As of January 1, 2024, Arizona LLCs must file a Beneficial Owner Information (BOI) report within 30 days of incorporation to the Financial Crimes Enforcement Network (FinCEN). Companies formed anytime during 2024 have 90 days, and those formed prior to January 1, 2024 have until the end of 2024 to file the report.
The BOI report requires company information including:
the company's legal name
any trade or DBA names,
physical address,
domestic jurisdiction
the tax ID number
Required beneficial owners and company applicant information includes:
full legal names
date of birth
residential address
copy of an identifying document with confirmation of a unique ID number (such as a passport)
Beneficial owners are defined as anyone who owns at least 25% of the company or has significant influence over decisions for the company (such as board members or the CEO), and company applicants are individuals who file the incorporation and/or direct the company to be incorporated.
Hire us to file your BOI report. We charge $9, and you avoid the hassle of having to figure this all out on your own.
Obtain necessary licenses and permits
Arizona does not have a standard state business license. Any other licenses or permits that may be required of your Arizona LLC will fall under one of the following three categories:
1. Transaction Privilege (Sales) Tax (TPT) License
If you plan to sell a product or engage in an activity subject to transaction privilege (sales) or use tax*, you will most likely need to obtain the state transaction privilege tax (TPT) license – commonly referred to as a sales tax, resale, wholesale, vendor or tax license – from the Arizona Department of Revenue (ADOR).
2. Business Licenses
While there is no blanket Arizona business licenses, most local jurisdictions issue business licenses.
For more information on whether or not your LLC is subject to one or more business licenses, check with each city/town office in which you plan to be based and/or conduct business.
3. Regulatory (Professional/Special) Licensing/Permits
If your LLC is involved in products or services that are more highly regulated, you likely need to obtain a specialized license or permit at the federal, state, or county/city level.
Optional: Register Any Trade Names (DBAs) for your LLC
If your Arizona LLC will operate under any names other than your legally registered name on the Articles of Organization, you will need to register that trade name (sometimes called a DBA) with the Arizona Secretary of State. This filing can be made online. You may also hire us to register your trade name after your LLC is formed for $125 plus state fees. Either way, plan in advance as the state is currently processing these filing in about 2-4 weeks and there are no expedited options.
Why trust Arizona Statutory Agent with your LLC
Exceptional Value.
We pride ourselves on offering the best statutory agent services, at the lowest rate year after year in Arizona. We don't do introductory rates, and we don't do price hikes. As a local business who isn't trying to be everything to every business, we keep our statutory agent service priced at $49 year, every year. Our LLC formation filing is $100 on top of the state's fee. That includes a comprehensive packet of internal documents like your LLC operating agreement, and with access to our Pima County address, you save money and time by eliminating the publication requirement.
Privacy.
Arizona is a state that requires LLCs to list their members or managers publicly. There's no getting around that. But, that doesn't mean you should have to list your private address publicly too. With our services, use of our address on public record is included. We also guarantee that we will never share or sell any of your data.
Localized Expertise.
When you hire a local statutory agent instead of a big, national corporation to start your LLC, you're hiring people who specifically specialize in the unique ins and outs of Arizona businesses. You're getting a friendly, experienced team who understands Arizona's completely unique processes like our statutory agent acceptance, and the publishing requirements. We're here to share our years of experience with you through helpful phone and email customer support during all regular business hours.
Streamlined Services.
Our services are tailored to meet the real needs of real Arizona businesses. Hire us for as many or as few services as you need, and keep everything in one secure, online account.
Questions? Call: (520) 422-2279
Our Guarantee
Honest Price
No Cancellation Fees
Satisfaction Guaranteed

No Upsells
No Hidden Fees
No "Introductory Prices"